About Novustech
Novustech sprung into existence over ten years ago out of necessity and passion. We started with pursuing an economic alternative to achieving a proper wheel stance through the use of spacers and wheel adapters.
We have learned that there are specific gaps in the market for certain high quality products that car enthusiasts are looking for so we started designing and making our TRU license plate mounts and Jack Pucks. Being involved in the car culture heavily, we are always aiming to design great products that help every car enthusiast out there.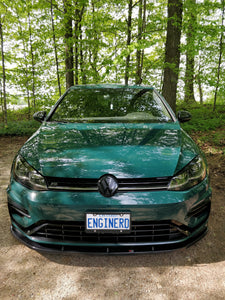 OEM Location Plate mount without drilling holes in the bumper
We have developed, what we consider to be, the best plate mount for the MK7 and MK7.5 Golf (works with 1.8T, GTI and R). In addition to being able to mount the plate in the grille for a more sporty look, we developed our plate mounting system to allow the use of OEM location brackets. Essentially, they allow you to mount the plate in the OEM location, without drilling holes in your bumper, with the additional benefit of achieving a symmetrical factory look. 
Meet our current distributors:
---